NOTE: Before you configure business email accounts in Outlook 2016, you need to create them in the control panel of your hosting site.
Login to your company website cPanel. Navigate to email accounts and create a new email ID. 
Assign email space to each email ID according to his or department's needs.
Option 1
You can also let the outlook to do automatic configuration. So when you click to add an account, you need to select the first option that is Email Account and fill the information in the required fields and press Next.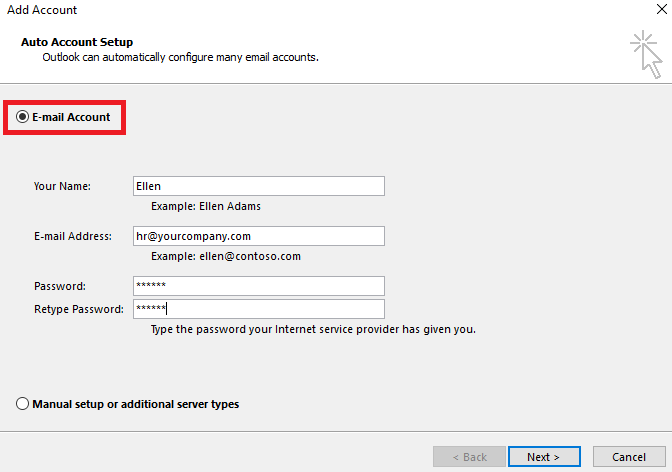 In automatic settings, you need to have an internet connection since the outlook will pick all the server and port settings from your host server.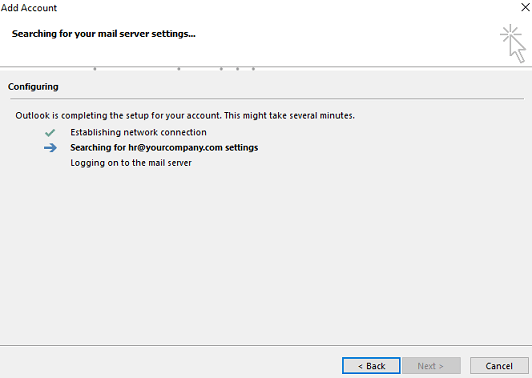 The failure rate in the automatic configuration is high so manual settings are recommended.
Option 2
If you haven't set up any email account previously, you will be asked to create a new email account when you open the outlook. And if you have an existing email account configured in outlook, you need to go to file and open "Add account". In both cases, you will get the following screen.
In "Add account" settings, select the second option, "manual setup or additional server types"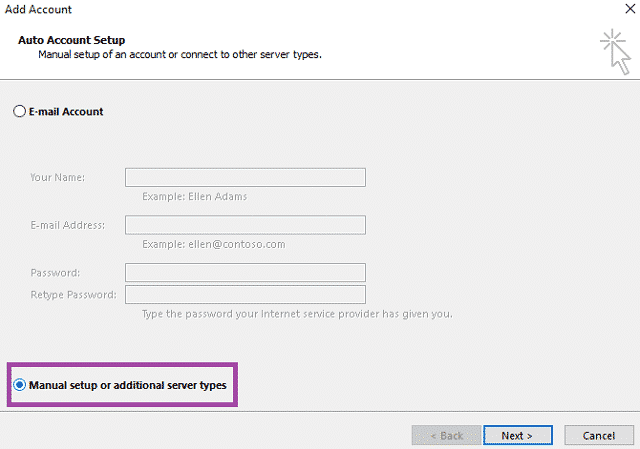 From the service option, select POP or IMAP.

In the next screen you need to fill all the information as explained below: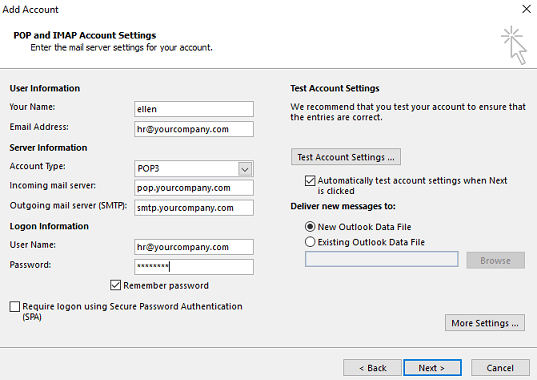 Your Name: The name you want to be displayed when another person receives your email.
Email Address: In this field fill the email address.
Account Type: POP3
Incoming Mail Server: pop.yourcompany.com
Outgoing Mail Server: smtp.yourcompany.com
(Note: Replace "yourcompany" with your website name)
User Name: Here you need to fill the email address you want to configure
Password: Fill the password that you have created during creation of mail ID in website cpanel
After filling all the above information correctly, click on "More Settings".
In more settings, click "Outgoing Server" tab and tick the option "More Settings" and select the radio button in front of "Use same settings as my incoming mail server" and click OK.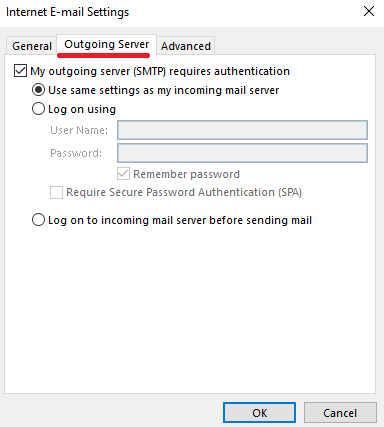 After you complete all these settings, now it's time to test the configuration. Open the account settings again and click Test Account Settings.
If all the settings are correct, under the tasks, the status will be "completed" in both the tests otherwise it will show an error.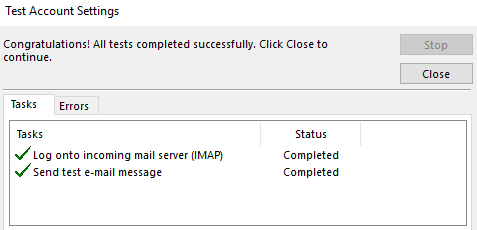 Option 3
This option is for IT executives who have access to hosting cPanel. This is a simple method if you are a little tech savvy person. Open the control panel of your website. Now go to Email accounts and click email configuration.

Run automatic script according to the email client and operating system. You just need to run the script and configuration will be automatically done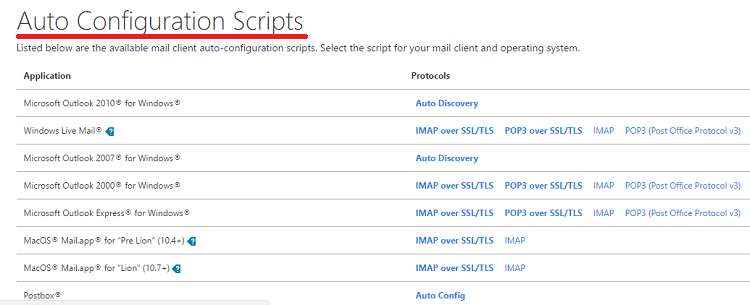 You can also do manual settings by referring to the settings as described below.
You have learned how to add a business or company email account in outlook 2016. You can follow the same procedure in outlook 2010 and 2013.